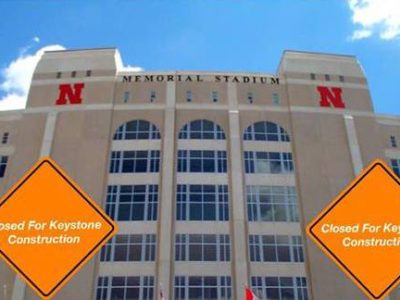 After years of conflict and protest from the opposition, Nebraska regulators gave approval Monday to the initial construction of the controversial Keystone XL pipeline. The 3-2 decision by the Public Service Commission came with a twist, however, as the preferred route chosen by Keystone XL was rejected by the committee in favor of another route. Protestors of the pipeline had hoped the rejection of the original route would derail the company's ambitions of construction altogether.
However, all hopes of cancellation quickly vanished when Keystone and the Public Service Commission agreed to a new, longer route passing through Lancaster County. More specifically, the construction route of the pipeline will cut through Memorial Stadium, causing a six-month construction delay that could affect the 2018 season and, when complete, create a noticeable bump across the 50-yard line.
The announcement of the new pipeline route was received with great animosity. Jessica Candor, a prominent protester of the Keystone Pipeline, has long been vocal about the harm this project will potentially cause.
"The pipeline is a symbol of the greed that is destroying our country. There is no benefit besides making money for the wealthy," Candor expressed at a protest. "If completed, the pipeline will cause oil spills that will affect the health of our future generations."
Others have taken a more recent hatred towards the pipeline, only because it will now run through the home of the Huskers.
"I will not let some company come into my state and ruin the essence and beauty of Memorial Stadium," local Husker fan Stan Dennis said after learning about the construction just hours earlier. "Build it in some field or valley or some river, but not Memorial Stadium. Our boys have enough trouble as it is, they don't need no pipeline tripping them up in the middle of the field."
A vast majority of Nebraskans agree that building the Keystone pipeline through Memorial Stadium is a bad idea, but when Governor Pete Ricketts was asked if there was any way of canceling this proposed route, he seemed less than optimistic.
"This newly created route may seem like an inconvenience, a danger to our children, an ugly eyesore, to have no economical propose of our middle-class, while also ruining our beloved football stadium. However, for me it means more MONEY! MONEY! MONEY! MONEY! MONEY!" Ricketts shouted as dollar signs formed in the pupils of his cold, soulless eyes.