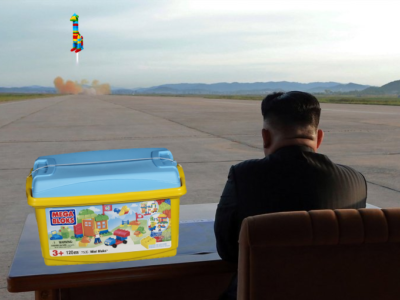 The kid ruler of anthropomorphized enigma North Korea yet again defied logic with this Hail Mary from his nation's defense department.
Sources were quick to speculate why Kim Jong-un would invest 4.2 billion dollars into Mega Bloks: more toys for his playroom, to have a statue built in his image, build a subservient South Korea – anything was fair game.
It wasn't until a United States drone surveying a North Korean missile facility brought back photos of thousands of North Korean soldiers in lab coats fumbling around with toy bricks that the world had its answer: they were building missiles.
"Mother fuckers are doing what?!" United States Secretary of Defense Jim Mattis jokingly exclaimed.
Even the French were quick to comment on this seemingly losing effort by the North Korean military.
"[French words]," French President Emmanuel Macron said, probably.
After three months of extensive testing, Kim launched one of his new Mega Bloks missiles over Japan to the dismay of all. Surprisingly, the missile managed to surpass all other North Korean efforts by making it off the launch pad. But as it crossed over Japan, it broke into a million little bloks, becoming the newest addition to the Pacific Ocean.
To the rest of the world, Kim's efforts were brushed off as yet another one of his disillusioned attempts to slap his big-boy dick onto the big-boy table of the world and exert his big-boyhoodishness. But to Kim, this was a sign of progress.
It is now believed North Korea will continue venturing out of its prehistoric methods, investing even more money into the project, this time with LEGO. Directors of "The LEGO Movie," Phil Lord and Christopher Miller, have even come forward saying they have indeed been contacted by Supreme Leader Flattop but declined after citing scheduling conflicts.