Shy Boys are a Kansas City-based outfit who craft delicate, deceptively simple pop songs with refreshing sincerity and a healthy dose of reverb. Their last release, a self-titled album they put out in 2014, has since received critical acclaim from a number of major publications.
In anticipation of their appearance at the Lincoln Calling festival this weekend, we spoke with lead singer Collin Rausch about shyness, not wearing leather and the joys of touring.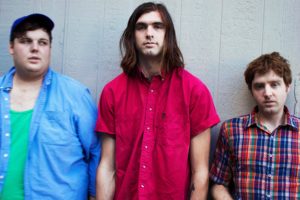 Seeds: So where'd the name come from? Are you a bunch of shy boys off the stage as well as on?
Rausch: We were looking for a name that was straight-forward and easy to tell people, you know? Terrified it would be a name we'd have to explain, like "It's Wavves with two v's" or something silly like that. Konnor really pushed simplicity because he had to deal with having an apostrophe in The ACB's. The "Shy" part wasn't intentionally biographical, but I think you could say it's true. We're pretty quiet most of the time, but it's usually because we're just out of it and in our own heads.
Seeds: Tell us a little bit about the origin of the band. Some of you were in The ACB's as well, another KC band. Did you have any particular goals or vision for Shy Boys when you started?
Rausch: Shy Boys really was just about friends playing together for a long time. There were a lot of basements and living rooms early on, and the record was only meant to be a document of what we sounded like together in those basements. Kyle and Koney were always bigger believers than I was. It's hard for me to hear it objectively. I selfishly just wanted to hear myself on vinyl. In my head now Shy Boys is a "thing," or something different than friends playing together. It's been really exciting, but it bums me out sometimes.
Seeds: You guys seem to tour a lot around the Midwest. I remember seeing you play at the Waiting Room in Omaha last summer. Any particular favorite venues out here?
Rausch: For sure. Lincoln Calling Fest will be our first time in Lincoln, I think, but I feel like we're regulars at O'Leavers in Omaha. Replay and Eighth Street Taproom in Lawrence are homes away from home. Total Drag Records is an awesome spot in Sioux Falls for playing and shopping. We don't go to St. Louis.
Seeds: Have you ever toured outside the Midwest?
Rausch: Yeah, all over the country. Some of the best memories of my life have happened while touring the West Coast, though, and they rarely have anything to do with the shows. You end up remembering the worst parts as fondly as the best parts, funnily. Surprise duffel bags of grass, naked zip lining into a quarry lake, thinking you're gonna crash and die winding through fog-packed redwoods in the middle of the night or on ice sheets coming out of the Rockies. All with your best buds. Touring is absolutely the reason I wanna do this forever.
Seeds: How do you describe your music when people who haven't heard it before ask?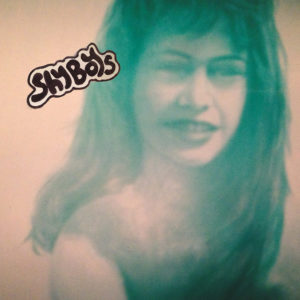 Rausch: A friend described us as The Beach Boys on Robitussin, which is the best elevator explanation I've heard.
Seeds: Lyrically, a lot of your music grapples with themes of anxiety and painful feelings. Do you find expressing these feelings through music to be therapeutic? Do you find you're normally too, well, shy to talk about them?
Rausch: Nah, we're not shy about talking about those things. I think one of the things that has bonded the group is being able to laugh at each other's misery. Maybe it comes up in conversation because on some level we need to get stress off our chest, or we need acknowledgment that we're going through something, but it's usually like lobbing up a self-deprecating softball so that we can be reminded that the problem isn't as big as it feels.
Seeds: Musically, your songs are simple and uncluttered, with few bells and whistles or extended instrumentals. Do you worry at all about striking the balance between having something that's direct and engaging and not having it be boring or generic?
Rausch: Sometimes. Especially trying to evolve as we finish writing this next record. I like the immediacy of pop. There's a lot of indie music where you can tell they're gear heads or spent hours in their bedroom dialing in a guitar tone. I love listening to those records, but our focus has always been on melody and harmony inside a tight arrangement. Hopefully a song doesn't over-deliver. Punk has a similar economy I think, but we don't wear leather.
Seeds: A '60s influence seems apparent in your music. What is it about music of that era that you think attracts you or that you find inspiring?
Rausch: It's hard to say why. Kyle and I were raised on it. Both of my parents were huge Beatles fans, and I think it's just in our DNA. We also grew up listening to Oldies 95 in the car, a radio station in KC that, at the time, that played doo-wop though some of the acid '60s. It was safe radio in a pretty conservative home life.
Seeds: How do songs come together for you guys? Is it a group effort or mostly the product of one person?
Rausch: I think the guys will wait for me to come up with the basic melody and arrangement for a song, but beyond that it's a group effort for sure.
Seeds: Any plans for a new album? It's been more than a couple years since your self-titled. Anything in the works right now? I couldn't find anything about it on your Facebook page.
Rausch: Yeah, about that… it stresses me out. Like I mentioned earlier, there is an expectation now that wasn't there when we did the first one. It's intimidating, in a way. Not because I want or expect it to elevate our status as a group. I just want my friends and KC to really like it. We have most of the record written now, and have demoed out like half of that just to hear how they're coming together. Since the first record came out I also fell for a girl and got engaged, so priorities change, you know?
Seeds: What have you guys been listening to recently?
Rausch: Really got hit hard by Weyes Blood's newest single "Do You Need My Love" in the van the other day. The new Mild High Club record's pretty special too.
Seeds: What's the farthest you could throw a baseball?
Rausch: I don't throw anything in public where people can see me.
Shy Boys are playing Lincoln Calling Friday, October 7, at the Zoo Bar.