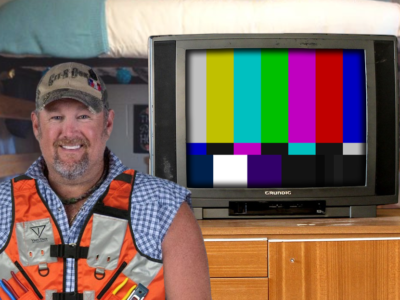 When University of Nebraska-Lincoln freshman Hannah Peterson filed a "Fix-It Ticket" to report the broken cable TV in her Abel Residence Hall dorm room, she expected a visit from a member of the hall's maintenance staff. She never could have imagined that that staff member would be professional stand-up comedian Larry the Cable Guy.
Within an hour of submitting the ticket, Nebraska's most famous resident arrived at her room with a full arsenal of cable installation tools, Peterson reported.
"I haven't really seen any of his movies or anything, but I recognized him right away," Peterson said. "He's that guy who's always at the Husker games."
"I didn't realize he was, like, an actual Cable Guy," she added.
While Peterson initially thought she had won some sort of contest, she said the comedian, who has recorded seven albums, immediately got to work on repairing the faulty cable.
"It was simply a matter of retrofitting the old RG-6 wire with a new F-connector," Larry explained. "Or as I like to say, 'Git-R-Done!'"
Larry told The DailyER he learned the basics of TV maintenance while developing his "Cable Guy" persona, and although his primary focus remains in comedy, he took a job with UNL Housing to support his family when he's not on tour.
"Larry may be a big-time celebrity in the entertainment world, but when he's here, he's just like any other employee," said Abel residence director Robert Gaines.
However, Gaines noted, Larry is contractually obligated to say "Git-R-Done" at least ten times during each repair job.