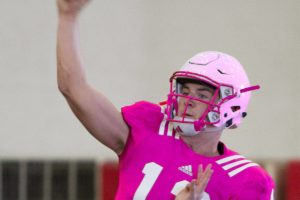 Every spring, there's a tradition unlike any other in Lincoln that brings everyone together to celebrate the game they love: football. The celebrated scrimmage pits teammates against one another by division of our beloved red and white colors.
However, this year's festivities are going to be a bit different. For the first time ever, the Huskers will introduce an all-pink uniform during the spring game, replacing the white ones.
The uniforms were not created to honor anything or promote any cause. They were not even created on purpose.
They are, in fact, the same white uniform used every year that were ruined when someone in the laundry department accidentally left a red sock in the white uniform wash. So, instead of ordering new white uniforms, the White team be renamed the Pink team and the annual spring game will be rebranded as the "Red-Pink" game.
Head Coach Mike Riley made the announcement Friday morning, focusing more on the new look than the washing mistake.
"In an era of re-branding and constantly updating uniforms, this is a way to create an identity here at Nebraska that we are confident in," Riley said. "We've been given an opportunity to use a color that is rarely used in sports merchandising. What a gift that's been given us."
Players participating on the newly "designed" Pink team did not share the same enthusiasm as their coach.
"I like wearing pink during breast cancer awareness month, but an all-pink uniform is a bit much," linebacker Michael Rose-Ivey said. "I mean, I look like a giant heart in it."
John DeMasterson, head of the laundry department for the Huskers, admits that one of his subordinates made the mistake, but he doesn't seemed to lose too much sleep over it.
"It's the spring game, none of this matters," DeMasterson said in a very grim tone. "Who cares if they violate an NCAA rule. It's a scrimmage game, wake me up when the season starts."