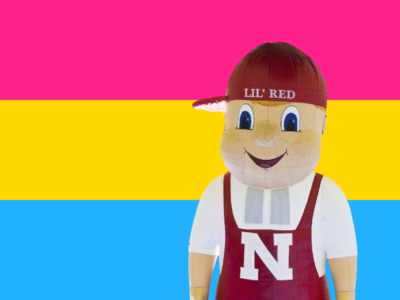 Beloved Husker mascot Lil' Red is known for his quiet personal life and reserved persona off of the field, but recently Red has stepped out of his comfort zone to bring awareness to his own sexuality and the stigma surrounding it.
In an exclusive interview with The DailyER, Lil' Red came out to the world and Husker nation as pansexual.
"There's been a lot of speculation surrounding my sexuality," Red admitted. "Some people will cite my five-year marriage with my ex-wife, Natalie, and say I'm straight. Others will say they've seen me around Lincoln on dates with men and say I'm obviously gay. But really, I'm pansexual."
Red went on to explain what pansexuality means to him.
"I don't date someone for their gender. Gender's not important to me when I'm looking for a partner. I just love who I love."
Red has recently teamed up with the LGBTQA+ Resource Center on campus to bring attention to queer identities in mascots. He hopes to not only make life easier at the University of Nebraska-Lincoln for himself and Herbie Husker, who recently came out as gender non-conforming, but for mascots all over the nation and even the world.
The Resource Center, with the help of Red and Herbie Husker, is currently in the process of planning a queer mascot prom set to take place near the end of spring semester.
"We just want to create a space where mascots of all sexualities and genders can come together, forget life and have fun for a few hours," Herbie said. "We're going to do everything we can to make this prom a night to remember for each of them."
Red hopes the press surrounding the announcement of his sexuality will not only shed some light on what pansexuality is, but also give publicity to the queer mascot prom.