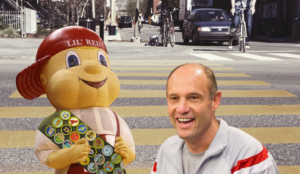 Mark another one down for everyone's favorite inflatable mascot.
Multiple sources reported seeing Lil' Red helping Head Coach Mike Riley cross the street around noon this past Tuesday at the intersection of 14th and Vine streets to earn his latest merit badge.
"He was clearly on a mission," junior accounting major Bradley Jameson said of Lil' Red. "He didn't even stand on his head or anything."
"Coach Riley seemed a little confused, but he went along with it," sophomore mechanical engineering major Lisa Bierson said, also noting the communication barrier between the two. "Lil' Red can't really talk so he had to show Coach Riley his merit badge sash to get the message across."
Herbie Husker, Lil' Red's Boy Scout troop leader, said Lil' Red did it to earn his Citizenship in the Community merit badge.
When asked later about Lil' Red's good deed, Coach Riley said he was glad he could make someone's day.
"I didn't really need any help, but Lil' Red just seemed so eager," Riley said. "That little guy may always have a big smile across his face, but I swear it got even bigger when I let him hold my arm as we crossed the road."
Riley was crossing 14th and Vine on his way to lunch at the Abel-Sandoz dining hall.
"That's the one place I hadn't tried on campus yet so I thought I'd check it out," Riley said.
He gave a solid review of the facility.
"Those cooks at Abel-Sandoz really know how to cook their pasta," he said. "Selleck dining is still my favorite, though. They make a mean chicken-fried steak over there."
Lil' Red was able to be reached for comment but could only provide excited hand gestures, poses for selfies and the occasional high five.