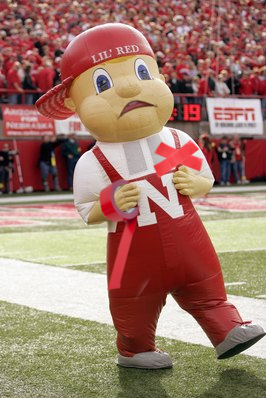 Lil' Red, beloved mascot of Nebraska Cornhusker athletics, was hospitalized today after he lost a short and tragic battle with an Office Depot brand stapler.
The stapler in question, purchased by an unnamed graduate assistant for the athletic department in 2010, was immediately taken into custody by campus police and is expected to be charged shortly.
Though current details are scarce, eyewitnesses report seeing Lil' Red attempt to staple together some documents that likely showed support for the University's athletic teams. However, at one point he was seen to struggle and pick the stapler in question off of the desk on which it was placed.
It was here that the trouble began. Lil' Red was seen to briefly struggle with the stapler before losing control of the situation and discharging a staple into his hand. His body, which is made primarily of cycling air, immediately began to deflate. Lil' Red was seen to shudder for a moment before collapsing onto the ground, and all remaining air immediately rushed out the now-gaping hole.
Lil' Red was quickly taken to a campus hospital where he was treated. He is expected to make a full recovery with time, a little luck, and a significant amount of red duct tape.