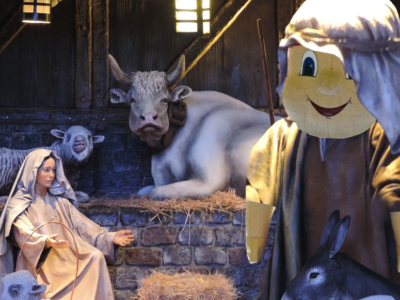 Huskers all over the community were delighted with Christmas cheer last week when it was announced to the public that Lil' Red will be playing Joseph in this year's rendition of UNL's annual Christmas play.
After a rough football season and uncertain future employment for Red, the mascot told The DailyER that he wanted to try something new.
"I saw a flyer for the play advertised on the UNL Snapchat's weekly installment of 'What's up Weekly' and immediately screenshotted it," Red stated. "They said they were looking for someone to play Joseph and I knew that I'd be a great fit for the part. I tried out and to my surprise, I got a call back."
Red has never acted before, but other members of the cast say he's a natural.
Delkalb Sycamore, a Junior chemical engineering major and this year's "Wise Man #2," told The DailyER that Red has acting talent beyond what he could have ever imagined.
"Red's presence lights up the stage", said Sycamore. "The first time I heard him recite his lines, I just stared in awe. Lil' Red has literally transported the presence of Joseph Christ to Lincoln, Nebraska."
The DailyER's staff was invited to a private dress rehearsal of the play last Tuesday. Red wore the traditional garb of a first-century father and wowed the small crowd with his performance. As Red held up the baby Jesus Lion King style and began to sing "Frosty the Snowman," tears could be seen in almost every eye present in the audience.
The play is being performed to the public for one week only from December 17th to Christmas Eve on the 24th at the Lied Center. Tickets are going fast and can be purchased from the Lied Center's website or your favorite third-party vendor.