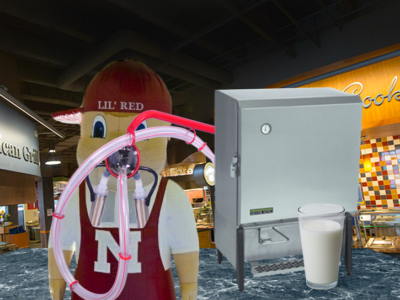 After increased pressure from students to offer more local and healthy food and drink options, UNL Dining Services has responded by announcing that they will expand their GFL (Good. Fresh. Local.) program by now using 100% local and organic Lil' Red breast milk in all of their dining hall milk dispensers.
Of course, male mascots do not produce milk naturally. In order to induce lactation, Red has been pumped full of the drug domperidone. UNL dining reports that the domperidone is completely safe for mascot consumption and helps Red's body produce increased levels of prolactin, the hormone which makes him lactate.
While the majority of UNL's student population is excited to try the new milk, there are also many skeptics who question the ethics of using Lil' Red's body in this way.
UNL Dining Services director, Robert Nutmeg, hopes to dispel these beliefs.
"Lil' Red is being treated in the best way possible," Nutmeg told the DailyER, "He's milked at most just three times per day, is allowed over two acres to roam and graze freely in and has his teats moisturized and massaged daily to keep them from getting sore".
The DailyER also reached out to Red himself to get his take on the matter.
"They treat me well," Red said while hooked up to an automated milking machine, "I love my new job. I'm able to provide for my wife and kids without straining myself physically like I did working as a mascot. I'm getting older, I need a job that better suits my needs and abilities."
Lil' Red's breast milk will be offered in many flavors such as classics like original, chocolate and strawberry, along with exclusive monthly flavors including grape, fruit punch and December's holiday flavor, turkey.