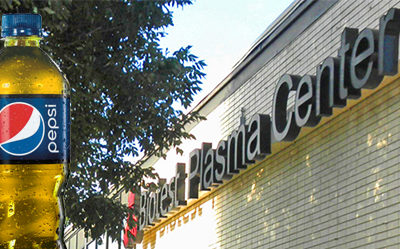 Lincoln local Richard Gilleaux received a bit of a shock earlier this week when he walked into Biotest Plasma Center and was turned away when they refused to accept his Pepsi bottle full of plasma as a donation.
"He walked in with a 20 ounce Pepsi bottle filled with plasma and just set it on the reception desk. We didn't really know what to do aside from ask him to leave," said Biotest manager Barbara Stockton. "It was a very strange thing."
Stockton said Gilleaux initially tried persuading the staff to accept it, but in the end relented and left with his bottle.
"What I would like to know is how in the hell did he manage to separate his plasma from the rest of his blood? Assuming it was his, that is," receptionist Terry Bridgewater said, appearing visibly unnerved as he spoke. "I didn't see any bandages on his arms or anything."
Stockton, however, was more outward with her confusion and astonishment.
"This has never happened here before, and I've never heard of it happening anywhere else either," Stockton said. "If he was able to afford the machinery needed to separate his red blood cells from his plasma, why would he need to sell it here? He has to be loaded, if that's the case. That's assuming the best case scenario. He did at least say that the inside of the bottle was disinfected before he filled it."
Reports say Gilleaux then attempted to sell his bottle to Biomat, but whether or not it was accepted is unconfirmed.
When reached for comment, Gilleaux refused to disclose his methodology, and further probing showed no sign of medical equipment in his home or in his trash.