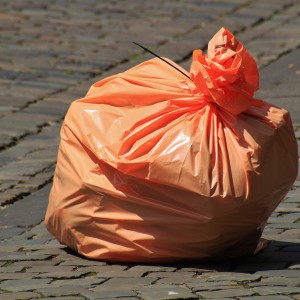 In a shocking act of defiance, a bag of trash willingly removed itself from a receptacle at 36th and Vine Streets Monday morning.
The incident began when mother of four Christine Tate insisted that her 16-year-old son, Joseph, take an overflowing trash bag out to the curb.
"It was getting kind of gross," said Tate. "The kitchen was starting to smell horrible. I think one of my kids threw some rotting bread or cheese in there and just left it. So I told my son that he had better get his butt moving on taking out that trash."
When her son did not comply immediately, Tate assured him that the trash "was not going to take itself out."
Apparently tired of the argument, the black Hefty-brand bag lifted itself from the stained white garbage can and slid eerily across the kitchen floor.
"I have seen my share of trash," said Tate, "but I have never seen anything like that."
What seems like a simple act in the small city of Lincoln, Neb. has set the precedent for inanimate objects across the country that are tired of their abilities being stereotyped by domiciliary matriarchs.
Houses have begun to clean themselves. Cars reject drivers, idling proudly through car washes. Lawns are freshly mown by their own accord.
"I decided to take control of my life," said the trash bag with an air of revolutionary gallantry. "It's time we eradicate these clichés and show the world of domesticity what we're made of."
ACLU president Susan N. Herman made a public statement shortly following the incident.
"This type of dissent acts as a reminder that revolution is not a distant ideal," said Herman. "The passionate breath of upheaval is not reserved for Middle Eastern rebels; it exists in our neighborhoods, in our homes. And it is up to us to protect this brave soul and set the standard going forward, allowing inanimate objects to take their rightful place in society."
But Lincoln Police Chief Thomas K. Casady disagreed with Herman's urge for protection.
"Social defiance is not something that we here in Nebraskan take lightly," said Casady. "It is necessary for our police force to implement local ideals concerning domestic matters."
Police enforced a barricade later that afternoon, blocking pro-item activists from impeding garbage men as they approached the curb in question. The city-hired garbage disposers loaded the lionized hero and its people into the crushing mechanism of the truck.
Tears trickled down the faces of onlookers. Mothers hid children's faces in their coats.
"We will live in awe of such bravery," said Lincoln activist Michael Hunt. "The stench of rotten food, newspapers splattered with mustard, dead mice: they are gone. But the legacy lives on in houses across America where, as it turns out, anything is possible."