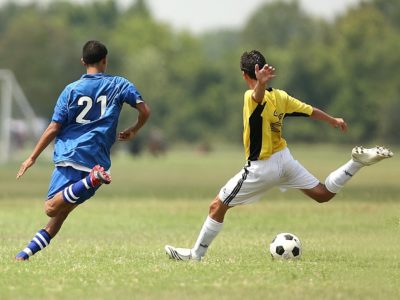 The South Lincoln Strikers youth soccer team has garnered some attention in local news recently with their wildly successful fundraising campaign. There are, however, some problems associated with said success.
"I decided to start a fundraiser for my U-12 soccer team to get new uniforms and shin guards, and maybe even afford a couple out-of-town games every season," Strikers coach Paul Holdenfield said. "But honestly, it's getting out of hand."
The fundraiser is being held through a national soccer fundraising organization called Cookies for Kickers, which employs a tiered system of fundraising milestones, with higher goals earning teams bigger rewards.
"I really really appreciate all the support we're getting, don't get me wrong, but it's starting to become a problem with the goals getting higher and higher," Holdenfield said. "It's becoming dangerous for our goalie, and the kids can't even kick the ball that high."
"Practice is getting really tough," said 12-year-old center midfielder Jamal Winston. "Nobody on the team can even reach the goal anymore, so how are we supposed to practice?"
Forward Christopher Watson expressed concerns about goalie Hunter Johnson.
"Hunter doesn't have to really even do anything to protect the goal, but I'm scared he's gonna fall off and die. Some other guys like to tease him by pulling the ladder away so he can't get down, but Coach Paul always yells at them and makes them run laps."
Game attendance, however, has skyrocketed despite the Strikers and their opponents never scoring.
"It's not every day you see kids trying to shoot into a goal 50 feet up," local soccer enthusiast Bill Manafort said while laughing.
Goalie Hunter Johnson could not be reached for comment, as his teammates had hidden the ladder.