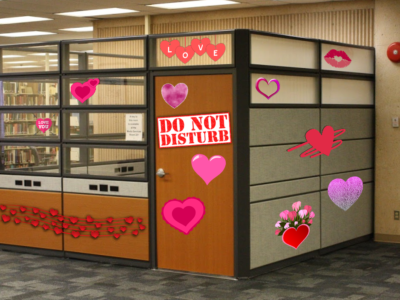 Talk about putting the Love back into Library. This Valentine's Day, Love Library will offer study rooms to students looking to "get it on" in a secluded, but safe environment.
"I think it's a really nice gesture," said freshman animal science major Allison Bohannon. "My boyfriend and I can't get a moment alone anymore thanks to our nosy roommates."
Nosy roommates will be the last of Bohannon's worries as her and her boyfriend enter the Kit and Dick Schmoker Study Center's new and improved sexy study rooms. Rooms come equipped with one large piece of black felt which nearly covers the whole window, three ambiguously romantic scented candles and one box of extra safe condoms ranging in size and texture.
"It is key for us that students feel comfortable about their sex life, especially on such an important day in a young couple's relationship," said Dean of Libraries, Dr. Nancy Busch. "Their relationship is bound to fizzle out in a couple of weeks anyway, so they might as well have a little fun in a university-sanctioned study room."
Busch even asked the Lincoln Police to clear out of their office inside the learning commons to make room for the kinkier lovebirds on campus. This special room includes one authentic pair of police-grade handcuffs.
Single students shouldn't worry about being alone on Valentine's Day either. Smaller rooms fit for one will be available, including a computer hooked up to a high-speed Internet connection and a large bottle of hand lotion.