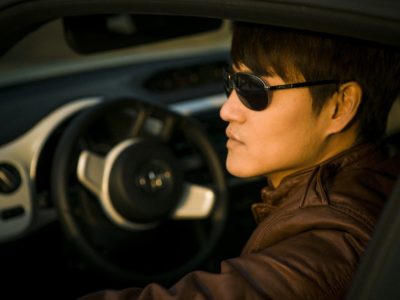 The guy stopped next to you at the intersection of 17th and O streets, blaring what seems to be his own rendition of The Killers' "Mr. Brightside," is set to perform at Vega next weekend.
Brandon Fleurs, the man behind the wheel of the blaring, light-driftwood metallic Pontiac Grand Am, has been working on his vocals during his daily commute for the past four years. Now, he feels ready to take his talents beyond the threshold of his faux-leather upholstery.
"It's been a long time coming, ya know?" Fleurs said, ripping a fat drag from his dank Cloupor t8 150w vaping mod. "Singing is like, my passion, and I'm just hella stoked I'll be able to share my gift of music to the loving people of Lincoln."
Fleurs described the moment he walked out the front doors of Vega after scheduling his performance as surreal. Coincidentally, Vega manager, Bob Reynolds, recounted a similar emotion after watching Fleurs leave his office.
"I was just so taken aback by the moxy of this guy," Reynolds said. "He just walked in with no formal training, no music knowledge; he didn't even have a SoundCloud. I absolutely had to sign him, he gave me no other choice."
With one week until show time, Fleurs will be going all out on his way to class from the moment he pulls out from his apartment complex until he parks his mean, light-driftwood metallic machine in the parking garage at 17th and R streets.
The setlist is lined up to be a doozy, with Fleurs said to perform self-proclaimed hits covered from some of his favorite musicians, including: "Smile Like You're Meant To," "Boulevard of Damaged Aspirations," "Fully-Charmed Life," "L0ngboard3r Boi," and more half-heartedly re-titled reproductions.