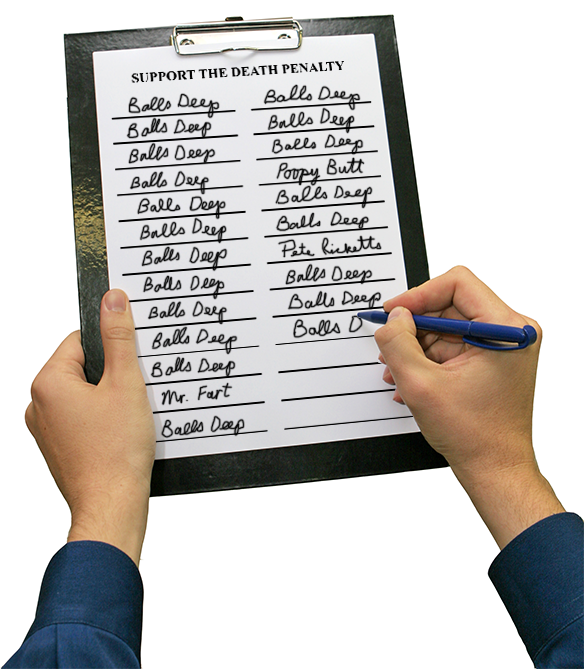 Last Wednesday, the Nebraskan for the Death Penalty reported that their petitions drive gathered 166,692 signatures, well above the 10 percent needed to secure a halt of a repeal and initiating a November 2016 vote.
While a majority of the state legislature agreed that the death penalty is an archaic form of punishment and an economic nuisance to the state, Governor Pete Ricketts, dedicated to serving the rights and dignity of the Nebraska citizens, is excited about the potentiality of being able to pump criminal with illegal substances once again.
While the signatures are being authenticated, one area man is having a good chuckle about the situation. Lincoln-native Trent Banter admitted to signing the petition at least 100,000 times as the pen name "Balls Deep" out of a sense of civic duty.
When asked how he got away with signing the petition with lewd signatures, Banter attributed his feat to the negligence of the petition holders.
"It turns out, people who think that the death penalty is an economically responsible and moral way of punishing criminals are not really concerned about the details," he said. "They were probably just glad that someone was talking to them."
While some are commending Banter's actions as a savvy dig at Ricketts, Banter does not see it that way.
"There was little political intent, I just like making a balls joke whenever I can," giggled an amused Banter.
"I relate to Pete a lot, actually," Banter continued. "When I was 3 years old I cried to my dad when I didn't get what I wanted.
When asked about the claim that the petition drive doesn't care about signature authenticity, Ricketts admitted that Banter was right.
"We are proud of every signature we received," Ricketts said. "100,000 'Balls Deep's can't be wrong."