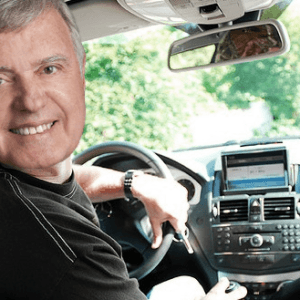 Lincoln drivers tired of their monotonous morning commute will soon have something to shake up their routine, thanks to Mayor Chris Beutler.
At a Friday press conference, Beutler signed a resolution proclaiming next Tuesday as Lincoln's first annual "Drive Backwards Day." The resolution, written by Beutler himself, requires that all drivers keep their cars in reverse for the entire day.
"I was driving to my office this morning, and I was just thinking about how silly it would look if everyone was driving backwards," Beutler said with a smile on his face. "Then I remembered, hey, I'm the mayor of this town, I can make that happen!"
While Beutler was scheduled to meet with community leaders and approve zoning regulations, the mayor's staff reports he spent the entire morning at his computer, furiously typing the "Drive Backwards" bill.
"Normally, we'd remind Chris that he has other obligations, but he was so excited about this idea that no one wanted to stop him," Beutler's secretary said.
Beutler noted that police officers will be posted around the city to make sure no one is driving forwards, but he said he doesn't expect any problems because "everyone will be having such a great time."
"Being your mayor is an important job that I take very seriously," Beutler said. "But that doesn't mean we can't have some fun once in awhile."