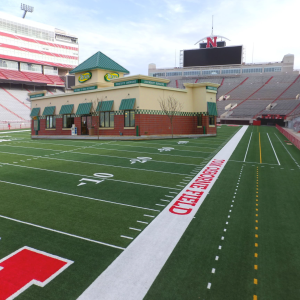 In a one-of-a-kind addition to the historic venue, the University of Nebraska-Lincoln will be opening a Runza restaurant at midfield of Memorial Stadium, university officials announced Monday.
"This new Runza location will be built directly on top of the midfield 'N' logo," said Chancellor Harvey Perlman. "The 'N' is a great symbol of Nebraska, but a Runza restaurant is an even better one."
The restaurant will serve Runza's famous beef and cabbage sandwiches to football fans, players and coaches on game days and throughout the week.
"Runza has long been a Nebraska tradition, and we're thrilled to be putting a Runza restaurant at the most iconic location in the state," said Runza president Donald Everett Jr. between bites of an onion ring.
Experts say the Runza location is unprecedented among college sports stadiums.
"Boise State has their famous blue field, but I don't know of any major college teams with a restaurant on their field," said stadium analyst Mark Norwood. "This will really put Nebraska football on the map."
Nebraska football coach Mike Riley was excited about the new opportunities the Runza would bring to his team.
"This is why I left Oregon State to come to Nebraska," Riley said. "When our recruits find out they can get a whole combo meal without leaving the field, we'll be signing top-rated prospects in no time."
Perlman said the university hopes to have the restaurant open by the Huskers' next home game, an October 24 matchup with Northwestern.
When asked if having a building on the field would obstruct play, Perlman responded, "Let's see Wisconsin try to drive downfield for a game-winning field goal with an entire Runza restaurant in their way."