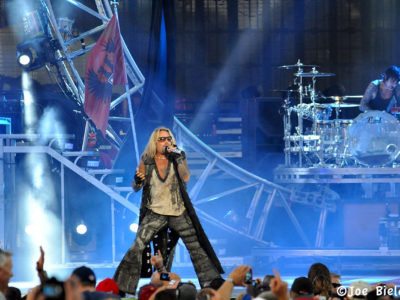 "Forget what you heard, Mötley Crüe is bringin' heavy metal back, baby!" Tommy Lee said in a recent interview with The DailyER.
Lee's enthusiasm stems from the band's decision to reform and release an updated version of one of their most popular songs, a cover of Brownsville Station's "Smokin' in the Boys Room."
The band hired an expert in millennial culture to help them revise the lyrics to their first Top 40 hit from 1985.
"I told them if they want to open up the genre and bring in new listeners, then they'd have to change a few things about the instrumentation and lyrics," 20-year-old communications major Eric Duval told The DailyER. "If they want to be Top 40 again, they need to add stuff like a drop."
The new, timelier version will feature a buildup and bass drop engineered by Calvin Harris and a rap bridge from Fetty Wap.
"It's really cool to collaborate with a band that had such an influence on their genre," Harris said. "I liked the challenge of making a good-sounding drop for a rock song. They [Mötley Crüe] wanted air horns in there for some reason, but I'm not going to question it."
"Man, I ain't ever listened to these guys, but I like their style. The hair is crazy–forget about the makeup," Fetty Wap said. "It was interesting rapping over guitars and an actual drum set, but I think my contribution is solid. It was different, making my lyrics about vaping instead of illicit substances but hey, gotta expand your horizons somehow."
"I gave those two younger guys some advice," bassist Nikki Sixx said. "I told them to be real careful with drugs, or else they might overdose, get revived, then write a hit song like 'Kickstart My Heart.'"