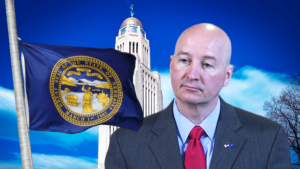 After Saturday's latest ass-whooping, Huskers everywhere have entered a time of mourning.
As a sign of respect to the boys in red, governor John Peter Ricketts, known to many as just "Pete" Ricketts, has issued a mandate ordering Nebraska's flag to fly at half-staff.
Ricketts recently addressed the public to discuss the matter.
"Our big, muscular, toned boys have been having a rough couple of weeks," Ricketts told the crowd outside of the capitol building. "We're doing this for them as a sign of solidarity. They may be losers, but they're our losers and we will stand by them through this tough time, just as we stand with them through their wins."
Ricketts then raised the flag to half-staff himself and led a twenty-one gun salute with twenty other Nebraska legislators, including legendary state senator Dan Hughes of the 44th legislative district, who brought his own machine gun for the salute.
Tammy Butters of Eagle, Nebraska, was in the audience during Ricketts's address and spoke with The DailyER.
"I think that Peter's decision to order the Nebraska flag at half-staff was incredibly respectful and bold," Butters said, "Our boys work hard out on the field every week. They're doing their best with what they have in a very rough time. When they look up to see the beautiful deep blue Nebraska flag flying at half-staff they will know that their state is still with them. I just want the boys to know that they're not alone."
Ricketts ended his address stating that the flag should continue to be flown at half-staff through the rest of the season unless the Huskers win a game, which many are saying is very unlikely.