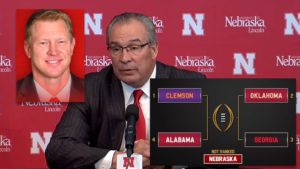 The coaching carousel continues! Following the worst football season since 1961, the Nebraska Cornhuskers decided to fire head coach Mike Riley. After tapping former Huskers legend Scott Frost to coach the Big Red on Saturday, Athletic Director Bill Moos has changed course once again. Moos announced Frost's termination at a press conference on Sunday, directly following the final release of the College Football Playoff rankings, which left Nebraska on the outside looking in.
"This is not the vision I had for Nebraska football," said Moos in his press conference. "Everyone remembers the days when Nebraska was competing for a title every year. Scott Frost helped us win one of those national titles. You know, after I saw Frost win the American Athletic Conference Championship, I was thinking he was our guy. I was really rooting for him to turn his alma mater program around. But missing the playoff in his first year? I guess he just wasn't the right man for the job after all."
Local Husker fan Denny Archer, who has attended every Nebraska game since 1982, commented on the Frost firing. "I had a lot of faith in Frost," said Archer. "But I'm really glad they got rid of him when they did. Some Husker fans are so cynical. Yeah, the program has gone off the rails the past few years, but at least we still won games. How many games has Frost won as coach? Zero. We need a proven winner to come to Nebraska."
Reporters from The DailyER caught Coach Frost carrying boxes from his office to his car on Sunday and spoke to him about his sudden firing. "Yeah, I'm shaken up by the whole thing," said Frost. "I just bought a home in Lincoln. I thought I was going to be here for the long haul. But, I guess Moos has to do what's best for the program. I wonder if Tennessee still needs a head coach."
Reports say Moos has several candidates in mind for the head coaching vacancy at Nebraska. Notable candidates include New England Patriots head coach Bill Belichick, former Chicago Bulls head coach Phil Jackson and former Oregon State football coach Mike Riley.