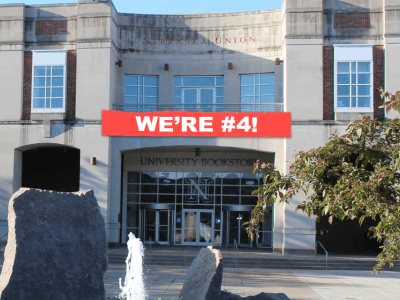 Editor's note: This article is part of the Daily Nebraskan and DailyER joint satirical issue, the HalfasskanER.

In a stunning turn of events, a review conducted by Business Insider listed University of Nebraska-Lincoln's very own Nebraska Union as the fourth-best union in the country. It beat out several prestigious labor unions, including the Union for Operating Engineers, United Auto Workers and others.

The honor comes as a surprise to many within UNL circles, as the Nebraska Union is not the type of union that protects workers rights and securities but is instead a gathering place for students to get fake Starbucks and ignore other students. The placement feels something like a clerical error – but University of Nebraska President Hank Bounds attributes the Union's success to its placement as the main attraction of the university.

"We've put a lot time and money into making our union a better place, and we're glad that people around the country are recognizing that," Bounds said. "It goes to show that if you design an area to look like a crappier version of what people think 2050 décor would be, people will take note."

The Nebraska Union placed overall with a rating of 96 percent, just behind the Educators Association, the Federation of State, County and Municipal Employees and the Association of Letter Carriers, the latter of which irritated Bounds.

"We're placed behind the post office, really? The Nebraska Union is one of greatest sites in the world," Bounds said. "I get teachers and government, but post officers? They suck at their jobs, am I right?"

Whether intentional or not, the ranking is good press for the university, and Bounds will stop at nothing to make sure everyone knows it.

"I can't wait for a prospective student to see a promotional pamphlet of our school, and to see the words that appeal to every student: 'Good Union,'" Bounds said.

"We used to be a football school, but now we're a union school.