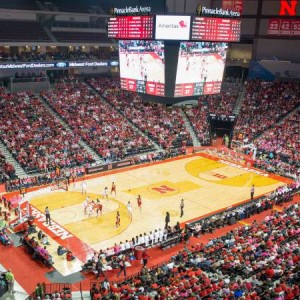 As Husker football continues to rule all, the Nebraska men's basketball team has struggled to make an impact on the city. This was particularly evident during a home game against Michigan, when one Nebrasketball fan was seen aggressively performing the traveling motion during the game, hoping to the influence the refs.
According the people sitting near the student, he could also be heard shouting various statements like, "Come on ref, that's a travel," "Are you blind?" and "that's at least three steps."
"When he first got up, I thought he was doing some cool new dance move," said the student's father. "But once he kept doing it for the entire game, I suddenly realized that I has failed as a father."
The student continued to wave for roughly three and a half hours without any breaks to the restroom or to get any snacks at concessions. While the game did have two traveling calls, all surveyed said the calls were not influenced by the student's waving.
When players were asked to comment about the situation, most were confused by the whole thing.
"At first I thought it was a joke, but after the first hour I started to get confused," a perplexed Shavon Shields said. "I don't get it. Is it mockery? Is he trying to get on the jumbotron? Is it a meta-critique of how the state of Nebraska does not do an adequate job at supporting the sport of basketball and we must improve in order to become a respectable program? I don't know."
Although the traveling kid has not reached out to comment, the university has commented on the issue.
"While we do not agree with the opinions expressed by a student at the Michigan game, it must be stated that as long as he is not hurting or belittling anyone that student has the right to wrongly express himself. Just think about something like the wave. The wave is juvenile and stuck in the 90s, yet this fanbase somehow enjoys it. So if it's OK that some grown man or woman likes to do the fucking wave, then give this idiot boy a break."