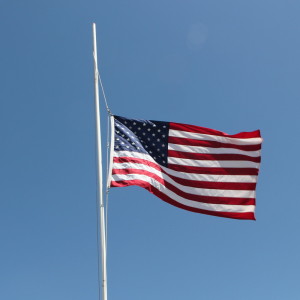 As routine mass shootings and violence become another part of the grim background music in a trauma-weary, post-recession nation still struggling to organize its scatterbrained, Paxil-permeated thoughts about the inevitable blowback that occurs in a declining consumer culture deeply rooted in instant gratification, overnight celebrity status and adoration of firearms, no clear solution exists.
However, one plucky inventor has stepped up with a novel new labor-saving device that will at least help Americans mourn slightly more efficiently.
"Our new, improved flagpoles are expertly calibrated to lower the American flag to half-mast automatically every 48 hours, which is roughly how regularly we have between sudden, deadly outbursts of gun violence in this country" said Devin Carter, senior design engineer at McCann-Burnett Solutions, Ltd., who unveiled his fully functional prototype to a mix of applause and stunned silence at a large industry trade show in Chicago this past week.
Debuting in front of two dozen Federal buildings, elementary schools, college campuses and shopping malls this fall, these automated flagpoles can also be programmed to lower respectfully for the tragic-yet-not-unexpected deaths of White House goldfish, Kim Davis' marriages and drug-addled, long-troubled, mostly forgotten pop stars from the 1980s, according to a press release.
"I'm sure there are groundskeepers, honor guard members and various civil servants out there who will be pleased to let technology handle this solemn duty," Carter added.
"It will give them more time to sip their coffee thoughtfully, gaze longingly at the horizon and wonder what the hell happened to the unity, compassion and humanity America had in abundance for almost a week after the 9/11 attacks."