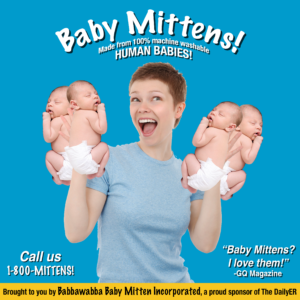 The following is a paid advertisement from Babbawabba Baby Mitten Incorporated.
HEY, YOU! Yeah you, without any BABIES on your HANDS! I bet you think you look REAL DUMB right now without BABY WARMTH encapsulating your grippers right about now!
Well check out THESE things! They're actual HUMAN BABIES! Conceived and birthed for the sole purpose of keeping the circulation flowing throughout your palms and pointers!
Don't let the stocky 7 pound 8-ounce frame on these little buggers stop YOU from buying THE most fashionable hand products since finger foods – or something! No one knows because these things – these mittenized babies – are so FAR OUT we can't even compare them to ANYTHING ELSE!
Want to have BABIES but don't want to love them for anything more than WARMTH?! BABY MITTENS! BUY THEM!
Want to give your mom the grandkids she's always wanted but can't find anyone to give or receive love juice from?! BABY MITTENS!
Do you ABSOLUTELY HATE seeing babies being strolled around in strollers or in the loving arms of their mothers?! US TOO! SLAP ON some BABY MITTENS and SLAP THEM for not having BABY MITTENS!
BE CONVINCED! These things are GREAT! Cosmopolitan gives BABY MITTENS two mittens WAY UP! GQ says, "Hey, I like these things – what are they? Baby Mittens? I love them!" Vogue … never reviewed them, but FUCK VOGUE, WHAT do they KNOW?! NOTHING about BABY MITTENS, THAT'S for sure!
Hell, this advertisement was TYPED while WEARING BABY MITTENS! One-hundred-fifty words per minute with these BABIES ON! You can't get those results with NORMAL MITTENS! Absolutely incredible are these MITTENS – these 100 percent MACHINE WASHABLE BABIES that are MITTENS, MITTEN BABY, BABY MITTENS!
Call us at 1-800-MITTENS! CALL US! Call us and order your order for MITTENS that are BABIES – BABY MITTENS! CALL US! CALL US NOW!
BABY MITTENS: BUY THEM! BUY OUR BABY MITTENS! We're going to FORCE YOUR HAND into buying these BABIES!