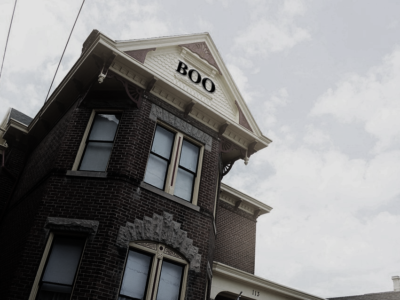 The University of Nebraska–Lincoln's Greek system is about to get a little bigger…and a lot spookier.
A new fraternal organization is arriving in Lincoln under the name of Beta Omicron Omicron, or BOO for short. This fraternity stands out from the rest with whom it lets join.
BOO chapters across the nation are known for their penchant for black clothing, ghostly makeup and Marilyn Manson. Their Halloween parties are also known for being the best in all of Panhellenic society.
"Yeah, I guess you could throw us under the label of 'goth' if that makes it easier to understand," fraternity organizer Lucius Ravenwood said.
Ravenwood, a student at UNL, is a self-described goth, and showed up to his interview in trap pants, a ripped Megadeth T-shirt and combat boots.
"We're planning to buy out the closed-down Sigma Nu house," he added.
The fraternity plans to live in the house as is, without fixing any of the broken windows or other outer blemishes.
"It adds atmosphere," said Ravenwood.
Ravenwood said he decided to start a BOO chapter at UNL when he noticed a large number of students of the spookier persuasion without a group they could call their own.
Ravenwood explained that BOO is one of the only, if not the sole fraternity organization in the Panhellenic system that is allowed to have a co-ed house.
"The small number of male goth students wouldn't be able to support an entire house themselves, so the organization weaseled its way into being granted co-ed living permissions," he said.
The parties are a little different from regular fraternity gatherings as well.
"We like to drink absinthe and German imported beer instead of the usual hard liquor and domestic garbage other houses like to call alcohol," said new BOO member Adam Wilkinson.
On a more curious note, notable former members of BOO include Marilyn Manson, Helena Bonham Carter, Korn bassist Reginald Arvizu and Katy Perry.