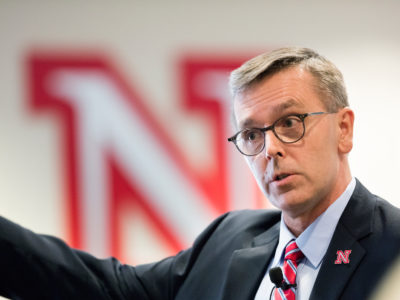 Good news for students: the University of Nebraska-Lincoln will be offering a new program, "NU in 2," aimed at giving students the community college experience of graduating in two years while taking all of the classes they would in a  normal four-year program.
"We know that we want to get students out of here as quickly as possible," Chancellor Ronnie Green said. "But they need to get those credits. That's why I believe NU in 2 will help them with that."
NU in 2 would involve students taking double the credits each semester, with classes being added to the night and weekends. The midnight to 4 a.m. classes have been nicknamed "UNL After Dark."
"We'll be having staff– as well as students– working 24/7 to get these kids out of here," said new After Dark professor Stephen Burling. "We're trying to get all students on campus on this system. Why wait two years to be an upperclassman when you can be one now?"
The new program would give students a mere four hours of sleep, which is "pretty solid" according to the UNL Health Center.
"I mean, it's the bare minimum, but at least you'll get some Z's!" said UNL doctor Roger Parks.
Freshman Carl Sullivan is testing out the system for the 2016-2017 school year. By the fall of 2017, he'll already be a junior.
"I'm getting used the whole concept of having no extracurricular activities or chances to see my family, but I have to admit it was jarring at first," Sullivan said. "Students will definitely need some time to adjust."
Green also expressed excitement about having students ready to join the workforce with a Bachelor's degree at the ripe age of 20.
"We all know that the college years are the golden years, but why wait?" he said. "We have so much wasted time during nights and weekends, so why not fill them up with something to do?"