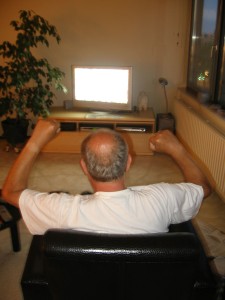 Lincoln resident Tony Thompson has found his nightly post-work ritual of kicking back and watching TV a little lacking as of late.
"There isn't anything interesting on TV,"  Thompson told The DailyER. "It's all just old porn reruns now."
This recent lack of quality non-porn content on TV has got Thompson down. While he previously enjoyed many different shows about a wide range of subjects, from shows about cops who weren't having sex to medical dramas about people not having sex, he has been dismayed to find that these shows are growing more and more scarce as of late.
"There's just nothing else on TV anymore," Thompson said. "NBC, CBS, FX, it's all just porn, porn, porn, The same porn, repeating endlessly."
While he watches TV every night anyway, Thompson insists that his interests lie beyond the porn reruns that he must now snore his way through.
"I'd love to watch a thrilling drama or maybe a nice indie romantic comedy," Thompson said. "But every time I turn the TV on, it's just some porn I've seen a million times."
For Thompson, the appeal of watching jacked strangers perform violently sexual acts upon each other on network television day after day has worn thin. While the networks that he loves to watch show little sign of changing their programming at this point, Thompson still looks back wistfully at the shows he used to enjoy.
"I miss 'Breaking Bad' and 'Mad Men,'" he sighed.