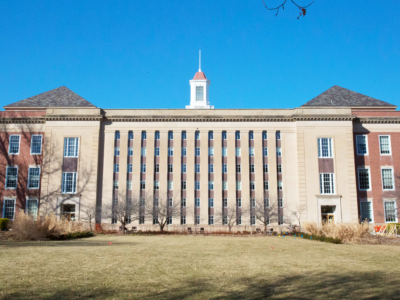 School years come and go, but what is always constant is a New Student Enrollment tour on campus.
As UNL recruits for new students every year, tours are a good way to demonstrate the beauty and peculiarities of our campus. With so much to cover in one day, it's hard to imagine how nothing can go wrong.
Unfortunately, that is what happened to Alice Mendez's tour during their stop at the Love Library.
As they explored the depths of the friendly library and examined old documents in the basement, they accidentally locked the archival room and were stuck in the basement for two hours.
Mendez explained getting stuck, as well as her choice to take a tour to the bottom of Love Library, as a moment they'll never experience again.
"I like to take my tours to places they'll never want to go again," Mendez explained. "That's why it took so long to get out of the basement because no one knew where we were."
Daniel Handyman, one of the students on the tour, was confused about why they were down there in the first place.
"I didn't really understand this part of the trip. Love Library I get, but there were only like two people down there—nobody knew we were lost," Handyman said. "I didn't even get to see the stadium."
New Student Enrollment released a statement apologizing for the incident.
"We deeply apologize for the inconvenience at Love Library. We hope some free T-Shirts and pens will make up for this."