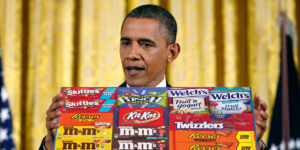 Rest easy, millennials: following years of heated debate and uncertainty, a solution for rising higher education costs has finally been found.
President Obama announced a new initiative on Friday to help college students deal with skyrocketing tuition rates. The plan? To sell cheap, tasteless candy bars to neighbors and coworkers who don't want them, out of one of those suitcase-like cardboard box things.
"It's like the sixth grade all over again," Obama said.
The cost of college tuition and fees has grown by nearly 1200 percent in the past 30 years. American students have been struggling to find ways to foot the massive bill for higher education without racking up tens of thousands of dollars in student loan debt.
In addition, total student loan debt in the U.S. has reached $1.2 trillion, the second-highest total for consumer debt behind only mortgages.
"We expect this new fundraising initiative to make a sizable dent in that figure," said Education Secretary John King. "Specifically the size of maybe a walnut, or one of the other tree nuts."
Students who sign up will be sent a box of generic, borderline inedible chocolate bars, along with a packet containing numerous data points, graphs, tables and charts outlining the growing cost of higher education. The packet, King said, will be used to help the students, along with their parents, craft "powerful and annoying as fuck emotional appeals" with which to bombard their friends, relatives, co-workers and neighbors.
The Department of Education projects that, by the end of the first month, participating youth will have generated upwards of tens of dollars in contributions toward their tuition bills.
Not everyone is optimistic about the plan, though. Critics say the program may end up generating more costs than additional revenues.
"Am I still looking forward to this? Of course," said Ricky Jones, an incoming freshman at the University of Nebraska-Lincoln who expects to take out roughly $30,000 in student loans for each year of his college career. "But that's only because I'm a few thumbtacks shy of a full box of thumbtacks if you know what I mean. Do you? Because I don't."