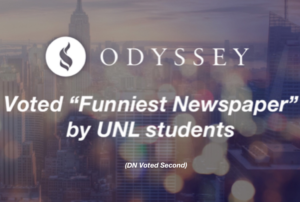 For the third consecutive year in a row, the online crowdsourcing content website "The Odyssey" has been named the funniest paper on campus by the students of the University of Nebraska-Lincoln. The site received an overwhelming 91% of the votes, followed by the Daily Nebraskan at 6%, Ronnie Green's email at 2% and the syllabus for Theatre 101 at .76%. The adversity that The Odyssey has overcome on this campus clearly established it as the funniest paper.
The Odyssey operates as a national company that recruits volunteers to submit articles about a specific community. UNL not only takes part in a community, but their student writers are clearly doing some of the most hilarious and popular work for the company. It is estimated that an average article from the UNL community page drives about 85% of all the traffic for The Odyssey's website, increasing the site's exposure by 540% just in this square mile.
When asked why they thought The Odyssey was the most humorous paper on campus, students shared different opinions on what makes the paper so knee-bustin'.
"I saw a piece about the top eight things to do before you die, and I laughed for several minutes after reading that buzzlist," senior actuarial science major Penny Carter said. "Buzzfeed ran that well dry three years ago."
"It's where I go to read and laugh about Christians complaining about atheists, non-student athletes complaining about student athletes and/or a millennial complaining about millennials, it's great," junior veterinary science major Randy Edwards said.
"In an era where the privileged upper-class voice is marginalized in this country, The Odyssey gives that voice a microphone to whine all over our Facebook feeds," freshman ethics major Isaiah Roberts said.
Early reports indicate that The Odyssey is a front-runner for the 2018 Pulitzer award.