Editor's note: This article has been modified to meet The DailyER's editorial standards. For a family-friendly reading experience, refer to the footnotes at the bottom of the page.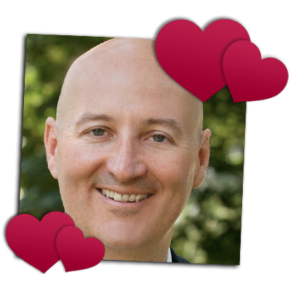 Nebraska's commander in chief, governor Pete Ricketts, has terrible opinions on just about everything. From his stance on abortion and same-sex marriage to his love of the death penalty and beyond, Ricketts is fiscally conservative and socially in 1958. But while Peter has many views that I could never get behind, I would without a doubt let him [redacted][2] my [redacted][3].
No one, conservative, liberal or Green Party, can disagree that our state's governor is a total babe with the complete package. From his shining head down to his gigantic, throbbing, hot, nine-inch toe, Pete is one-hundred percent pure undiluted sex appeal.
When I see his beautiful face and glistening head appear on my television screen every weekday at 10:00 PM on my trusted local news source, 10/11 News, I can only think about one thing… Peter Ricketts's [redacted][4] three feet deep in my [redacted][5].
My mind frequently drifts off to a scene in the governor's mansion that I've fantasized about often. I am [redacted][6] and [redacted][7] to his mahogany bed frame. Peter is nearly five feet away from me, almost fully covered in a [redacted][8] bodysuit, a shiny "Choose Life" license plate strapped to his [redacted][9]. After stretching out his hamstrings for a full thirteen minutes and [redacted][10]ing up the plate, Peter sprints towards me at nearly fifteen miles per hour. He gains speed as he approaches me and [redacted][11]s the license plate into my [redacted][12] in a moment of ecstasy. Peter then continues to [redacted][13] me with the license plate for a full two and a half minutes of pure bliss, until he [redacted][14].
Peter, if you're reading this, please respond to my emails. I long for the day when I can finally see my own reflection mirrored back at me on your beautiful glowing head and know that soon your license plate will be [redacted][15] up my [redacted][16].
1: talk with
2: talk about legislation with
3: family
4: legislation
5: state's constitution
6: nervous
7: talking
8: business casual
9: car
10: shine
11: put
12: tote bag
13: impress
14: gets bored
15: filling up
16: car's entire bumper