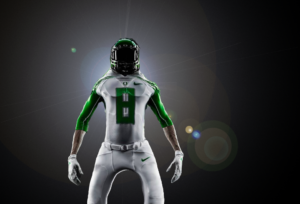 With a legacy of high-tempo offenses and a style that can only be called their own, the Oregon Ducks are a breed all their own that dominated the Pac-12 for the first half of the decade. With the blessing and money of Nike's Phil Knight, the Ducks have been able to create a hodgepodge of alternative uniforms that complement the style of the program.
It's no surprise that as they prepare for their upcoming game against the Huskers this Saturday, the Ducks announced that they will play in their newly design European-cut style uniforms in Lincoln.
The new look will not be all that different from the distinct style Oregon is known for. The uniforms will provide a slimming, geometric alignment to the body, which will make gameplay harder but make the players look more professional.
Oregon head coach Mark Helfrich believes the new, slimmer design will cause problems, but it's nothing the team can't handle.
"These unis will be a problem for some, the fitted design could cause restriction of blood flow to some areas," Helfrich said, looking directly at his offensive and defensive lines. "I would scrap these if they didn't look so damn good."
While the new uniforms are receiving mixed reviews from fans and the media alike, the players seem excited about the slenderizing look.
"Our wardrobe is the envy of college football, we even have a fricking highlighter outfit for god's sake," said Ducks running back Royce Freeman. "These new uniforms should distract from the fact that we always come up short."
As the Huskers prepare for the high-tempo Ducks, Coach Riley has made it clear that he is not worried about the Ducks' outfits.
"I'm the most fashionable man on campus, so this new uniform shouldn't be a problem," Riley said confidently.