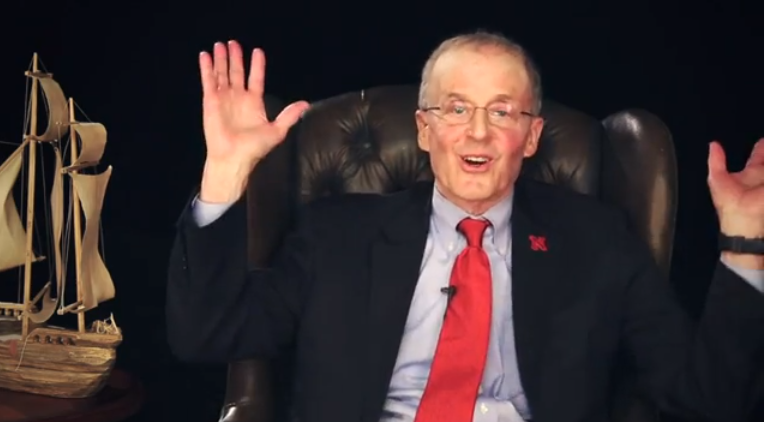 Perlman calls for ban on "mouth noises" in University of Nebraska-Lincoln bathrooms.
In a bold display of executive power, UNL Chancellor Harvey Perlman delivered an emergency address Wednesday afternoon, demanding a university-wide ban of "mouth noises" in all campus restrooms.
The call to inaction comes after what Perlman describes as an arduous morning that ended with him on a third-floor toilet surrounded by sounds he said "might have well as been from a porno."
His wife, Susan, stood at his side for support, making her own case at certain points.
"It's sickening," Perlman said during the 45-minute video conference. "Just downright disgusting."
"Icky," Mrs. Perlman said over her husband's shoulder. "Gross."
Among the noises singled out by the chancellor: gasping, wheezing, "any moans of any variety," grunts, sighs, human words, giggles and those associated with "blowing raspberries."
"While I won't name names," Perlman said. "I just want to say I am personally disappointed in the entire staff of Oldfather Hall. Despicable."
The chancellor spit after he said this.
Within minutes of the address's close, Oldfather personnel began tweeting the hashtag "#whoeverspeltitdealtit." Custodian Jared Yayzel, who refrained from using his own Twitter account, said a suggestion such as Perlman's, while potentially warranted, still hurt.
"I look up to Harvey," Yayzel said. "I respect that man."
Yayzel leaned against his mop, looking at his feet while he spoke. He bit his lip.
"I used to respect that man," he said. "But that was unfair of him. He's a bully, and he's not my friend anymore."
While Perlman acknowledged he has no legal or practical way to enforce a policy of this nature, he said students caught in the act of "tasteless audible excretion" will face the embarrassment of his scowl.
"It takes focus in there," Perlman continued. "Your voice is the last thing I want to hear when I'm dropping Perls of wisdom."