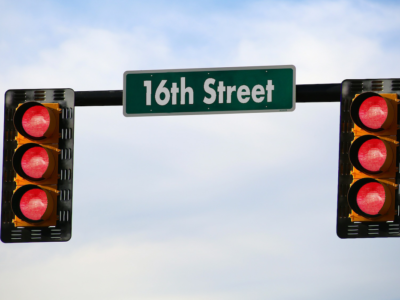 Since the start of the school year, pedestrians and drivers alike have complained about congestion on 16th street caused by the removal of traffic lights. Now, the City of Lincoln has found a solution.
Early Monday morning, drivers discovered that traffic lights had returned to all of 16th street's major intersections, but with an unexpected twist: the lights are now permanently red.
"We feel that installing these new 'always-red' lights is the best way to alleviate the sort of stop-and-go traffic that has plagued the University of Nebraska-Lincoln campus in recent weeks," explained city traffic engineer Chuck Ostroff. "Now, students will be able to safely cross the street without worrying about the cars moving at all."
The new lights, which took the place of the four-way stop signs that had directed traffic since mid-July, were met with a mixed reception.
"I mean, I don't drive, so I can't complain, but it seems kind of unfair," said freshman computer science major Mitchell McDuff as he crossed Vine Street on his way to lunch. "I'm pretty sure these are the same cars that were here when I was walking to my 8 a.m. class."
Witnesses reported that, within minutes of the lights being turned on, the drivers began honking their horns incessantly, and by mid-morning the din could be heard for miles around campus.
"This light is going to change any second now, it has to!" yelled local driver Cecilia Walder between honks. "I'm only five hours late for work."
Other drivers expressed less confidence in the situation.
"Think I can get out and grab lunch at that dining hall over there?" asked Ron Mickelson, who was stuck between two stoplights in front of Selleck Residence Hall. "I'm pretty sure my car will still be here when I get back."
According to traffic reports received by The DailyER newsroom, the congestion quickly reached downtown and surrounding neighborhoods, and by the afternoon, the majority of traffic in the Lincoln area had come to a standstill.
"Well, I haven't heard of any accidents yet today, so I'd call this a major success," reported a satisfied Ostroff.
At press time, the gridlock was rapidly spreading up Interstate 80 to Omaha, and experts forecasted that, by the end of the week, it could cause a nationwide shutdown of the country's entire traffic infrastructure.