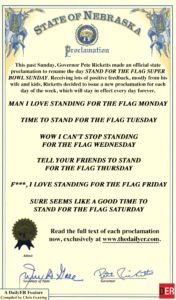 Following a tumultuous football season for national anthem protests, Nebraska Governor Pete Ricketts has once again revived the controversy. This past Sunday, Ricketts made an official state proclamation to rename the day to "Stand For The Flag Super Bowl Sunday," coinciding with the National Football League title game. Receiving lots of positive feedback, mostly from his wife and kids, Ricketts decided to issue a new proclamation for each day of the week, which will stay in effect every day forever. Here's a consolidated list of each of the proclamations:
Stand For The Flag Super Bowl Sunday
This name applies to every Sunday year round, even though the Super Bowl won't be back until next February. Better make sure to have those tailgate snacks ready for when you stand for the anthem!
Man I Love Standing For The Flag Monday 
Take your love of standing for the flag with you first thing into work on Monday morning. Make sure you stand for the anthem during your lunch break or else you won't get that nice Christmas bonus from Jolly Ol' Saint Ricketts.
Time To Stand For The Flag Tuesday
Is it already time to stand for the anthem again? Yes, every 30 minutes you must stand for the playing of our national anthem, broadcast across all radio and TV stations in the state of Nebraska. Even if you hear it come on the car radio, get out of your car and stand on the side of the road, you unpatriotic pile of garbage.
Wow I Can't Stop Standing For The Flag Wednesday
Boy, do I love standing for the anthem! If you stand for the anthem right before bedtime, Pete Ricketts will climb through your bedroom window after you fall asleep and sing you a lullaby. How sweet is that!
Tell Your Friends To Stand For The Flag Thursday
Standing for the national anthem is better with more people! Grab a friend or seven and make them stand for our beloved anthem! This is the perfect activity for any birthday party, wedding reception or bar mitzvah!
F***, I Love Standing For The Flag Friday
I can't get enough of this standing for the flag deal! Remember to practice safe flag standing every time the national anthem plays! If you stand up too fast, all your red, white and blue blood cells will rush to your head and make your head explode. Stand safely, folks.
Sure Seems Like A Good Time To Stand For The Flag Saturday
Right now is the best time to stand for our nation's flag! You might as well just stay standing 24/7 in case of any surprise playing of the national anthem! If you ever get caught not standing for the flag, Pete Ricketts will steal all of your personal belongings and sell them on eBay. Do yourself a favor and stand for the anthem.