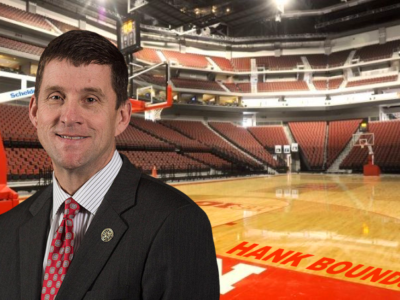 After years of tireless service to higher education, Hank Bounds is finally getting the respect he deserves.
Bounds, the president of the University of Nebraska system, was honored Sunday when Pinnacle Bank Arena rededicated its out-of-bounds lines as the "out-of-Hank-Bounds" lines.
"This is a huge moment for my career," Bounds said, who became president in 2015. "I'm the first person in the Bounds family to have their own out-of-bounds lines."
Bounds' wife and children joined him for the rededication ceremony, which took place at halftime of the Nebraska-Michigan basketball game.
During the ceremony, Bounds walked to all four boundaries of the court and autographed each line.
"I never quite felt at home here in Nebraska until I got my own out-of-bounds lines," a satisfied Bounds reported. "This is truly an honor."
At all future basketball games at Pinnacle Bank Arena, whenever the ball goes out of bounds, the announcer will say "That's out-of-Hank-Bounds." The crowd will then be instructed to stand and cheer as an image of Bounds appears on the jumbotron.
"We all love Hank, so we're happy that he finally got his own bounds," Nebraska head coach Tim Miles said after the Huskers' loss to Michigan. "I actually think our guys might have been trying to dribble the ball out-of-Hank-Bounds in the second half though, just so they could honor him. That might explain why we lost."
Under his previous job as Mississippi's commissioner of higher education, Bounds reportedly lobbied the University of Mississippi's Tad Smith Coliseum to name their bounds after him but was unsuccessful. Bounds strongly denied this report.
"That report is completely false," Bounds insisted. "I have never tried to pressure any sports venue into naming their bounds after me. Although, I sure would love to have my name on the bounds at Memorial Stadium."