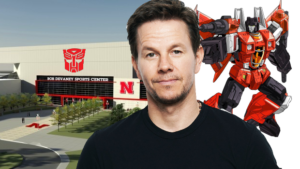 Calling it the most glaring failure of his tenure, Will Zunneman, the University of Nebraska-Lincoln's communications director, told reporters that he fears for the security of his job after his recent mistake of trying to attract Mark Wahlberg to the university by saying the Devaney Center was a Transformer, only to find out that Wahlberg hates the color red.
"With my approval, the university spent millions of dollars on a marketing campaign in which we convinced the public, specifically Mark Wahlberg, that the Devaney Center was a Transformer," said Zunneman. "And then just yesterday, Mark held a press conference solely to announce that he hates the color red."
Wahlberg's hatred of red came as a shock to UNL students, who accepted a $2,500 tuition hike last year to fund Wahlberg-targeted advertising meant to persuade the "Daddy's Home" star that the Devaney Center was a Transformer.
"I rejected all my scholarship money to ensure the university had enough funding for one of many 'Attention Mark Wahlberg: The Devaney Center is a Transformer' campaigns. My mom is working a second job. I can't believe Mark has such a strong distaste for the color red," said freshman women's studies major Ernest Ortiz.
When reached by reporters for comment, Wahlberg dodged questions related to the timing of his announcement and instead listed the different kinds of red he hates.
"Scarlet, maroon, burgundy, rose, crimson, cardinal, cherry, vermilion, ruby," said Wahlberg.
When pressed further, Wahlberg replied, "Rust, some shades of salmon, carmine, and chestnut."
Despite Wahlberg's strong stance against red, university officials offered hope for UNL students.
Said Chancellor Ronnie Green: "I don't know, maybe we convinced Shia LeBeouf."