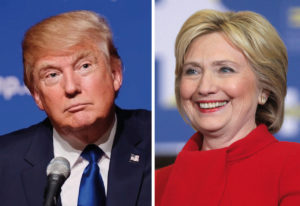 Wednesday's presidential debate at the University of Nevada, Las Vegas, the third and final of the 2016 election, will function a bit differently than the previous two.
While nominees Donald Trump and Hillary Clinton will be moderated by Fox News' Chris Wallace in much the same manner as the last two debates, the audience will have its own moderator this time: noted cinematic antagonist and terrifying nightmare creature, Predator.
Terry McIntyre, a spokesperson for the Commission on Presidential Debates, said the audience's questionable behavior in the first two debates showed that they need to be kept in line.
"It's only logical that, if there's gonna be someone making sure our two candidates are being civil, there should be someone making sure the thousand or so grown toddlers in the audience do the same," McIntyre said. "We knew we needed someone who wouldn't tolerate any interruptions, and who could earn the audience's respect. That's why Predator was at the top of our short list. He's a tough, ugly son of a bitch, but he has principles."
While Predator – who first rose to prominence in its 1987 namesake film – has no political experience to speak of, McIntyre believes its unparalleled ability to inspire fear in the hearts of humans makes it well suited for the job.
"There will be no funny business," Predator told The DailyER through an electronic translator. "I'm equipped to do whatever it takes to maintain an air of civility. I've got my usual gadgets: an invisibility cloak, thermal radar… as well as some new stuff, like a gun that fires human organs and this handy whistle that, when I blow it, will make the person I'm looking at soil themselves."
Predator felt compelled to take the job by audience members' applause in response to a comment from Trump in the last debate – that if he were president, his opponent Clinton would "be in jail."
"Look, I come from a brutal culture of violence. I personally have skinned several people alive," Predator said. "And still, I was taken aback by what I saw in the first two debates. There will be none of that while I'm in attendance."
The CPD's shortlist for audience moderator also included Liam Neeson's character from the "Taken" series, a scarecrow in a Richard Nixon mask and the to-this-day-stern-looking corpse of Barry Goldwater.