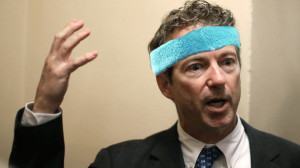 At a rally this morning at the Galt House Hotel in Louisville, Kentucky, Senator Rand Paul (R-KY) announced the beginning of two important campaigns.
Not only does he plan on running for president of the United States, but he also plans on beginning to repair the "big whopper" that was the University of Kentucky's loss against Wisconsin in the Final Four.
"I hope to use my background as an ophthalmologist to help all citizens 'see' the potential this country has as well as cleanly avenge the defeat of the University of Kentucky's basketball team," said Senator Paul of his decision. "Every team should have an opportunity 40-0, and for the purpose of rhetoric, the United States of America will be considered a team!"
The crowd was full of energy, cheering as Paul outlined the foundations of his campaign. He excitedly described a variety of programs he hoped to initiate, such as frequent vision tests for UK's basketball players to ensure they "keep their eyes on the prize," isolationism in the key and the middle east, and other policies that reflect his ideology that "a win begins at tip off."
"Kentucky, I hear your ravenous bourbon soaked laments, your gnashing of teeth and wailing of children," said Paul as he demonstrated his perfect pick and roll to all present.
Paul ended the event by reminding all present that although he was strongly against drone strikes, he could probably change this stance for Frank Kaminsky.