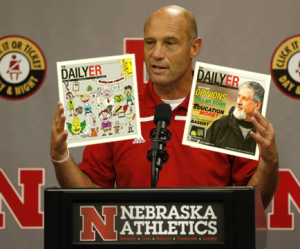 Even though college football is still months away from kicking off, preparation for next season is in full swing as practices and the spring red and white game are just around the corner. Many fans are intrigued by a new recruit who could add an edge to the team.
No recruit is more tantalizing than true freshman quarterback Patrick O'Brien, a four-star prospect who could change the face of the Nebraska offense. While Senior Tommy Armstrong has many years of experience over O'Brien, the rookie impressed coaches during spring practice.
When O'Brien threw a prefect spiral of a crumpled-up piece of paper into a trash can five feet away, the NU staff took notice. All of the offensive coaches knew about O'Brien's talents, but the trash can toss showed that he's the QB of the future.
"I've never seen someone with the pure mechanics, the footwork, the vision, the accuracy to get the paper ball into the trash can," offensive coordinator Danny Langsdorf said. "In two years being here, I've never seen someone throw away trash like that."
"Everything comes naturally to him," wide receiver coach Keith Williams added. "He just took the ball of paper, threw it to the receiver [the trash can] with such ease and brushed it off like he's done this a thousand times. What a talent."
With the coaches oohing and aahing over the potential of O'Brien at quarterback, head Coach Mike Riley said it's too soon to name the freshman a starter over Armstrong.
"Tommy's had years of experience as our QB and with this offense," Riley said, grinning from ear to ear. "But throughout my years here I've never seen him throw any paper balls into a trash can, so he's got something to improve on."
Editor's note: This article ran as part of the Daily Nebraskan and DailyER joint satirical issue, the HalfasskanER.