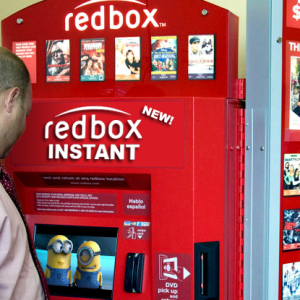 Cinema buffs gained a new film-viewing option Tuesday, as DVD rental kiosk company Redbox announced an instant streaming service that allows customers to watch entire movies directly on the Redbox screen.
"Starting today, our full library of classic and modern films is available to stream instantly on any Redbox machine," Redbox president Mark Horak said at a press conference. "Now, you can enjoy your favorite movies without leaving the comfort of the Walgreens parking lot."
"This is the way movies were meant to be seen," he added.
Horak explained that the new service, dubbed "Redbox Instant," would not require any hardware upgrades, as the screens and speakers on existing Redbox kiosks are already "pretty good."
Film critics have questioned whether standing outside of Walgreens for two hours watching a small, glare-sensitive screen can compare to a full theatrical experience, but industry analysts say it is an inevitable step in the changing landscape of cinema.
"In today's fast-paced world, people want their movies instantly," said technology expert Erica Packard. "They don't have time to wait around for things like driving home and putting in the DVD."
To get a local perspective on the new service, The DailyER talked to customers outside of the 27th and Vine Walgreens, where a line of people eager to try Redbox Instant had already formed.
"I'm excited to try it out," said small business owner Carlos Romero. "I go to Walgreens every day anyway, so it's very convenient to just stop and catch a movie on the way to my car."
Others expressed concerns about the service, particularly over the long line.
"I've been waiting forever for this guy to finish 'Paul Blart: Mall Cop,'" complained finance consultant Rachel Denton. "And I have to cover my ears so I won't hear any spoilers, because I want to watch Blart too."
"This is still better than having to take home an actual disc, though," she added. "DVDs are just the worst."
While it remains to be seen if Redbox Instant will be successful, Horak said the company already has plans to expand the service.
"Right now, we're looking at adding full seasons of TV shows," he explained, "so we can offer fans a convenient way to binge-watch their favorite series."