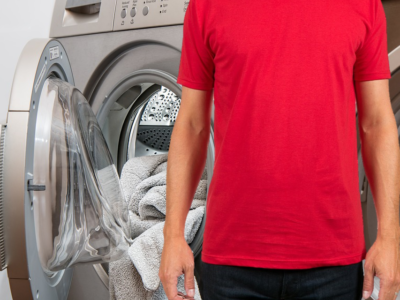 The roommates of now-sophomore redshirt Daniel McEnally are breathing sighs of relief, literally.
"The coaches finally allowed all the redshirt freshmen to change out of those red shirts after a full year," said roommate Josh Kent, who also noted that McEnally actually burned the red shirt he was forced to wear for a year.
"It's in the contract we signed," said McEnally, when asked why he wore a single red shirt from the beginning of fall camp in 2016 until the beginning of 2017's fall camp. "Nobody ever realizes that we're wearing them because we just wear them underneath everything else. The only time we can take them off is to shower."
"That [stuff] was so gross," said roommate Ian Henson. "You wouldn't believe the amount of Febreze we buy. Dan's contract didn't explicitly state that he could take it off to wash it and he didn't want to take any chances so yeah, he wore it the whole time. We even tried to fill up the tub and pour in some detergent with him in it, but when he started having a reaction to the detergent we scratched that idea."
"I was itchy for like four days after that. All the guys on the team call me 'Dantergent' now," said McEnally of the incident. McEnally said the only reason he went through with the contract deal was because of how friendly head coach Mike Riley is. "That guy is so nice and considerate. We even call him 'Grandpa Mike' as a little jab but we kind of mean it too. He's just like a grandpa to all of us."
Learn more about the Huskers football program by Googling it yourself. I don't feel like looking up an exact website.