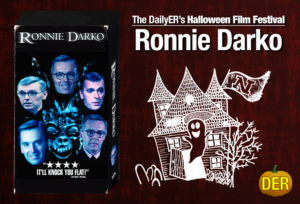 Haunted by the mistakes of his past, chancellor Ronnie Darko begins sleepwalking and is awoken by the South Dakota State Jackrabbit, who tells him that in 72 days, 12 hours, 45 minutes and 6 seconds, SDSU will surpass UNL academically and athletically.
At first, he pretends it's just a dream, but after half the student body drops out and 3/4 of the football team are suspended by the NCAA for bribery, Chancellor Darko must confront his own fears and misfortune in order to save himself and the school he loves.
An instant classic. 5 stars.