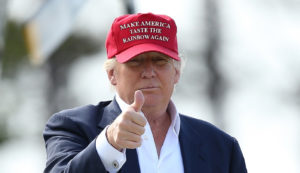 Following his son's tweet which equated Syrian refugees with a bowl of Skittles candy, Donald Trump made history Wednesday by becoming the first presidential candidate to run on an entirely Skittles-based platform.
Trump's revised platform, which was posted to his campaign website Tuesday morning, left his actual policy proposals unchanged but replaced the complicated political jargon with easy-to-understand Skittles metaphors.
At a speech in Yorkville, Illinois, the home of a Skittles manufacturing plant, Trump outlined his new platform while wearing a "Make America Taste the Rainbow Again" hat.
"Folks, they're taking our Skittles," Trump explained. "These other countries, they're taking our strawberry and orange and lime Skittles, and we're getting the horrible grape ones."
"I can get those Skittles back, believe me," he said.
Trump stood firm on his controversial immigration policy, albeit with a rainbow-tinted twist.
"All these Skittles, pouring across our border, they're not the good Skittles," he said. "They're the stale ones, the crusty ones at the bottom of the bag. And some, I assume, taste pretty good."
"We need to build a wall of Skittles boxes," he added.
The crowd, which consisted mostly of Skittles employees and candy enthusiasts, responded positively to Trump's new approach.
"I'm not really a 'politics guy,' so I was pretty confused by the whole election," said 36-year-old Skittles fan Mark Prescott. "But once Trump started talking Skittles, it all made sense. This is a guy who knows how to get things done."
Trump closed his speech with an appeal to African-American voters.
"You have no Skittles. Your bag is empty. What the hell do you have to lose?" he asked. "I'm the guy with all the Skittles. I'll give you my Skittles, folks. You can have some of my Skittles."
Trump was then joined onstage by several members of his family, carrying garbage bags full of Skittles, who began throwing handfuls of the multicolored candy into the crowd.
Skittles' parent company, Wrigley, had no comment.