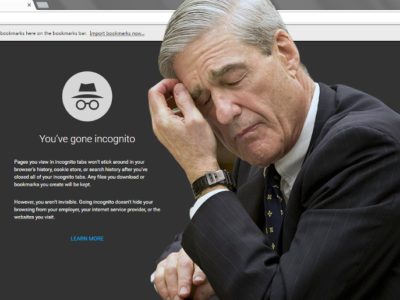 Calling the last seven months a royal waste of time, special counsel Robert Mueller announced he was giving up on the Russia investigation after discovering all tampering was done from an incognito browser.
"Undoubtedly, there was extensive malicious, foreign influence in the 2016 presidential election," Mueller said in a press conference early on Tuesday morning. "There were also a number of suspicious connections between President Trump's campaign and powerful Russian business moguls and government members. Unfortunately, it has become apparent that there is no possible way for us to track these interactions as all foreign tampering was performed from an incognito browser on Google Chrome."
Mueller went on to say that the past months have consisted of endless clues that all led back to a single untraceable incognito browser.
"The results of this investigation are a disappointment to myself, the American public and the world," Mueller said. "But, as everybody knows, there is simply no way around an incognito browser. We just have to chalk this one up as a lost cause."
When questioned about the extent to which Mueller and his team attempted to find a way around the private browser, Mueller detailed the tireless efforts of the world's brightest minds.
"We tried everything," Mueller said. "We even reached out to Edward Snowden, offering protection from any criminal prosecution and a safe return to the United States if he could crack the incognito browser. He just laughed and said it was beyond impossible."
Mueller concluded the press conference with a plea to foreign governments, begging that if they choose to interfere in future American elections, to at least have the decency to use a plain Mozilla Firefox browser.