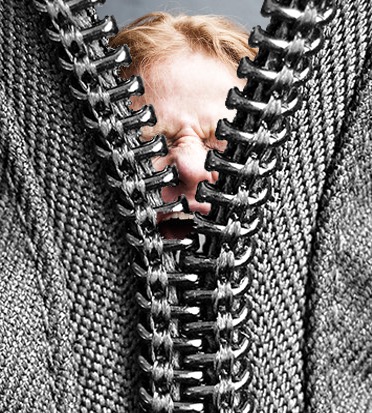 "Damn zipper's getting cau-aaagghhh," were the last words that sophomore finance major Jerry Lee said before his jacket's zipper caught his entire jaw.
It all started when Lee wanted to go for a jog Monday morning. Of course, before any jog, he needed two things: a chance to talk to his roommates about how awesome and challenging jogging as far as he does is; and his Nike tracksuit with matching sweatpants.
"Yeah, he was doing his usual 'man, guys, you'll never understand how beautiful the bike trails are for running' talk that we all love to hear," said Lee's roommate, junior astronomy major Hector Harrison. "Man, I just loved hearing him lament about how stretching is vital for an alpha body like his."
Sadly, his usual pep-talk was cut short. Just as he began to zip up his jet blue jacket and mention to his roommates that they should run together "once their priorities are better," the zipper seemed to become possessed by a malicious spirit. As it reached Lee's neck, it snagged on his jaw and clung to it.
"Oh, God, it was horrible," said Lee's girlfriend, senior sociology major Barbie Klein. "It took off his entire lower jaw, like it was alive and some sadistic creature. My little trailblazer won't be able to talk to us anymore about how accomplished he feels after a jog and how we can all be fit, too, once we just work harder."
Authorities spent 3 hours prying the heinous metal fangs from Lee's patchy jaw. Unfortunately, his jaw could not be saved from the sick clothing accessory's powerful grasp. However, authorities say that, if the zipper had caught one of Lee's chest hairs or just felt like being a total asshole, it could have taken more than half of his entire body.
Luckily, according to everyone, he will still run, something that he apparently loves to do so goddamn much.
"Grhhmslrpfrishna," Lee said.