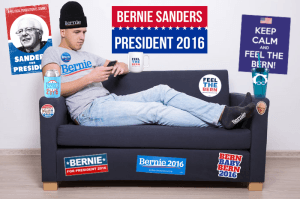 As the March 5 Nebraska Democratic caucus approaches, local Bernie Sanders supporter Cody Williams was dismayed to discover he couldn't support his preferred candidate the way he's been doing for months.
Unlike their Republican counterparts, Democrats in Nebraska utilize a caucus system for picking their delegates, which is an orderly process involving registered voters entering a room and yelling at each other until it's decided where everyone's final loyalties lie.
Williams has two problems with this system.
"I actually have to go somewhere to vote?" Williams asked. "I figured I could just send in a tweet or something. I've been retweeting Bernie for months."
A record of Williams' Twitter timeline revealed a series of five retweets of @BernieSanders dating back to mid-December as well as eight stolen Bernie memes without attribution.
Following Williams' Facebook post on the Nebraska Democratic Party's page inquiring about caucus procedures, he was unhappy with the NDP's response.
"Politics shouldn't actually involve going out and doing things," he said. "Instead of walking around downtown talking to people who haven't decided who to vote for, I'd much rather yell into my own online echo chamber."
Williams added that because the Democratic race has been a two-person match for months, most voters have already chosen their sides and won't budge, which was a surprisingly valid point.
In addition to leaving his bedroom to go out and be an active citizen, Williams' other main gripe was having to register to vote.
"Sounds like a lot of work, man," Williams said. "I don't even know how to register to vote. You could say I'm pretty new to politics."
Little did the armchair activist know that a quick Google search would reveal that he can register to vote online in his state.
At press time, Williams was reportedly digging up dirt on Bill Clinton, because he's the one running for president.