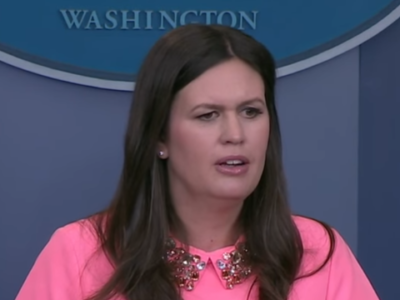 Beginning her usual morning press conference for an unusual White House administration, Press Secretary Sarah Huckabee Sanders began her speech rather unusually. In what only could be seen as a cry for help, Sanders spent the first ten minutes of her press conference by pleading with her two dads, Vermont Senator Bernie Sanders and former Arkansas Governor Mike Huckabee to stop fighting and learn to love each other.
"All my life I've watched you two fighting and bickering about the dumbest things like healthcare or the budget, and meanwhile my heart is breaking watching you fight," Sanders sobbed. "I can't recount how many times I've stayed up listening to you argue about higher taxation of the rich, it's sickening me."
Sanders continued by offering a chance at peace between the two, in hopes of bringing their family together.
"You used to love each other, I am a product of it – I know deep down you both share an affection for each other," Sanders said. "Please do for me."
Meanwhile, the press in the room were stunned at what was happening; the press secretary crying at the podium, claiming she has two fathers who are prominent politicians. Many reporters obviously had more questions, so thankfully, Sanders was able to be her own reliable self.
"No questions at this time, please, thank you."