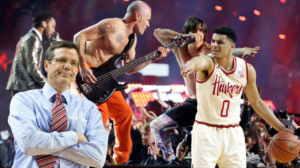 Since its opening in 2013, the Pinnacle Bank Arena has found success in the community by booking high-profile acts to perform in Lincoln. However, in a decision that can only be explained as a mistake, PBA has announced that a men's basketball team will have to share the arena with funk rock band Red Hot Chili Peppers during its January 20 concert date.
PBA's Project Manager Paula Yancey said the conflict was an innocent mistake that should never happen again.
"It's so easy to forget that the Huskers also play basketball, and when you have the opportunity to get a band as influential as the Chili Peppers to play in Lincoln, sometimes you just get caught up in the moment," Yancey said. "I'll have to get one of those basketball calendars to remind me when the Huskers are playing and not book concerts those days."
For now, both events will go on as planned, with both the basketball game and the Chili Peppers occupying the ground floor. Tickets for both events will be honored with the intention that attendees of the basketball game can enjoy a free concert and vice versa.
Husker guard Tai Webster knows that an arena concert is not the most appropriate setting for a basketball game but understands the circumstances of the situation.
"A rock concert is not the ideal situation for a game, but you have to roll with the punches," Webster said. "We're taught to deal with rowdy situations on the road, but I never thought that would apply to Flea's funky basslines."
The dilemma, however, is nothing the Red Hot Chili Peppers haven't struggled with before. After more than 30 years of touring, it would take a great ordeal to faze them.
"Listen, we constantly perform with nothing but a sock on, it's like a weekly thing," frontman Anthony Kiedis said. "A basketball game is nothing compared to what we've been through."